Sandpiper Ventures Announces Investment in Insurance Software Platform, QuickFacts
February 23, 2023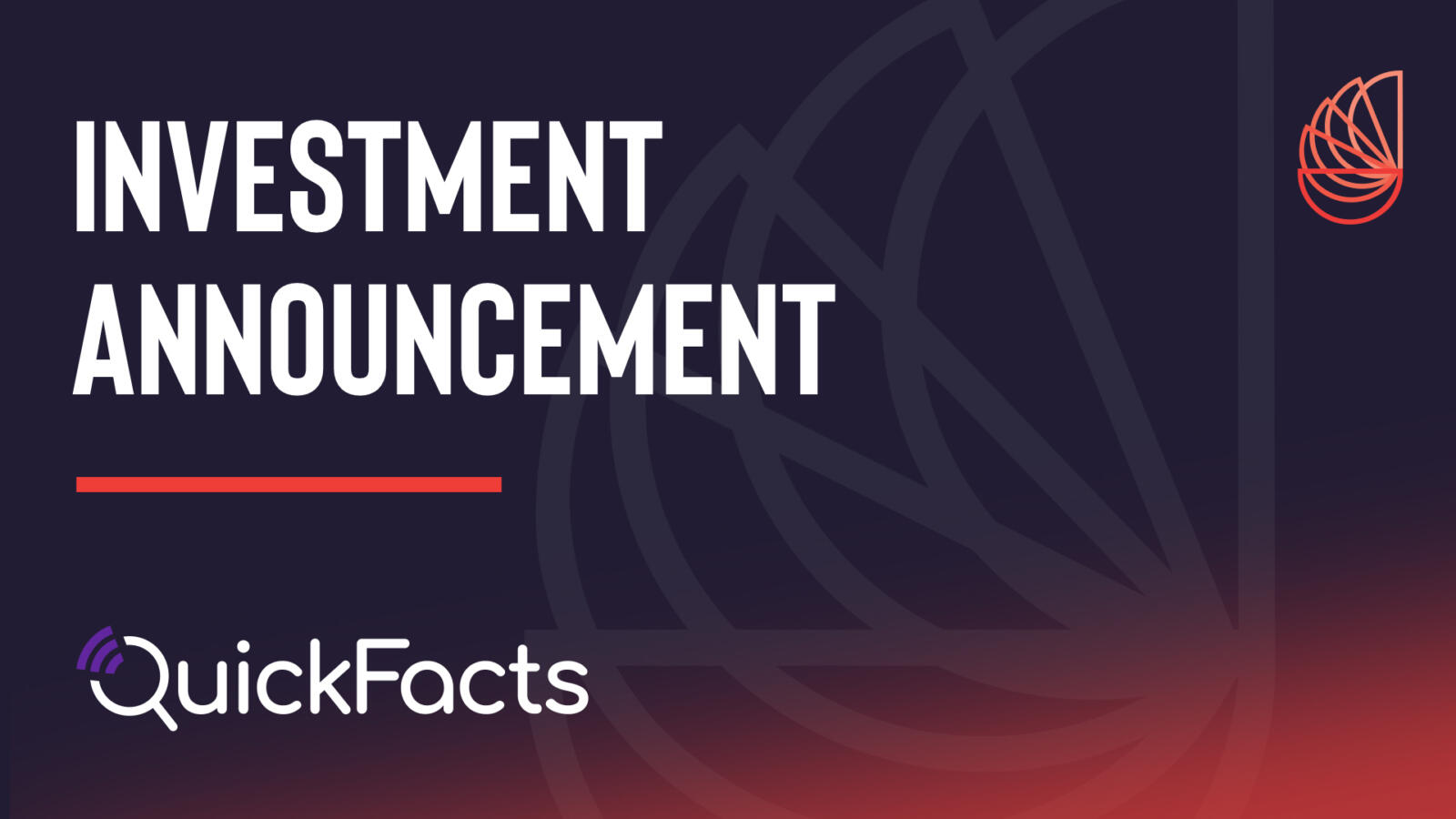 February 23, 2023 – Halifax, NS, Canada – Today, Sandpiper Ventures announced its investment in Nova Scotia-based QuickFacts, a software platform designed to improve business operations and efficiencies of insurance brokerages, solving a major challenge faced by brokers of effectively meeting the needs of customers.

QuickFacts makes it easy to retrieve information, onboard new staff and ensure consistency and reliability in the information provided to customers. Their software displays simple side-by-side comparisons of all the necessary carrier information from insurance carriers, reducing search time by 10x – 20x. They also create custom workflows brokerages need to achieve consistency and efficiencies, reducing costly employee turnover and creating capacity for key employees to focus on primary responsibilities. This drastically improves broker training, results in greater customer satisfaction, and creates the conditions for higher sales team capacity and higher employee productivity.
Over the past several years, the insurance industry has been investing aggressively in IT solutions. Long-term insurance spending is forecasted to grow at a CAGR of 6.4% to $271B globally in 2025 with IT services predicted to grow by 7.9% and IT software to grow by 11.2%. North America was the largest region in the insurance market in 2021 while Asia Pacific was the second largest.
There are three big problems facing the insurance industry:
Wasted time
Clients want quick answers but most brokerages represent between five to 20 carriers and need to sift through documents with hundreds of pages of information that updates frequently. As well, training new employees is known to take between two and four months, due to absence of a centralized onboarding process.
Lack of consistency
Brokers quote with what they are comfortable with and skip over additional sales possibilities.
Liability
Errors result in significant costs for brokerages. In order to mitigate these errors, it requires coordinating processes across multiple departments.
QuickFacts is the solution to these problems. Its platform saves brokerages 45 minutes per day per user. This ultimately enables larger brokerages to realize $6.2 million in new business per year and $175,000 per year in added productivity. Time is saved from searching carrier manuals to find the correct information, quoting all company offerings appropriately, discussing with team members or
supervisors, and calling underwriters for missing information. The solution helps to provide a consistent client experience across all brokerages and locations and reduce the probability of errors.
QuickFacts generates revenue with its web-based software suite that includes Comparisons, Workflows, QuickFacts Academy and paid advertising within their platform.
"We are successfully infiltrating a rather traditional industry that urgently requires innovative solutions. My background in insurance helped me identify these pain points of time, consistency and liability and it's tremendously exciting to have a partner like Sandpiper Ventures join us on this mission," comments Christy Silvestri, President & CEO, QuickFacts.
"QuickFacts is thinking about the growth trajectory for the insurance industry of tomorrow. Within that growth, efficiencies are required so customers will have a seamless and productive relationship with their insurance broker as need rises and patience wanes," explains Sarah Young, Co-founder and Managing Partner, Sandpiper Ventures.
The insurance industry is a critical component of the economy by virtue of the amount of premiums it collects, the scale of its investment and, more fundamentally, the essential social and economic role it plays in covering personal and business risks. This marks Sandpiper's eleventh investment.
Sandpiper Ventures and Women in Venture Capital
Women-owned businesses received just 1.9% of venture capital (VC) funding available worldwide in 2022 (Crunchbase)
Women are also under-represented among equity investors, representing only 15.2% of VC partners and 16.7% of Canadian angel investors. (Highline Beta)
Women working in analyst, senior analyst, and associate roles make three to 13 percent less than their male counterparts in median salary. Bonus-wise, female analysts also make 43 to 46 percent less than men, while associates earn the same (Canadian Women in VC)
Female-founded teams experienced slightly higher growth, at 39.2%, compared with 33.3% for the broader VC population. (Pitchbook)
Female founders still managed to close more deal value three quarters into 2022 than in any year prior to the record highs set in 2021. (Pitchbook)
Only 2% of angel investors in Canada are female and female founders receive only 3% of VC dollars. Women of colour receive just 0.2% of funding, and there are no stats available for Indigenous women, LGBTQ women and/or women with disabilities, likely because the numbers are so small.
Female entrepreneurs receive $0.8M CAD while male counterparts receive $2.1M CAD.
About QuickFacts
QuickFacts is a company dedicated to improving the insurance industry through technological disruption. Their SaaS platform organizes insurance brokerage's personal lines information and presents it on a single search-engine platform for their team. This software compares multiple insurance carriers side-by-side, reducing search time by 10x-20x, facilitating operational workflows across departments, and drastically improving broker productivity and training time. Their software is currently being used in brokerages across Atlantic Canada and Ontario with an imminent expansion into Western Canada. To learn more, visit quickfactsinc.com or LinkedIn.
About Christy Silvestri, President and CEO
Christy was an insurance broker for 17 years and managed operations for the first Atlantic Canada all-digital brokerage. During her time as a broker, she taught CAIB courses and sat on the Insurance Brokers Association of Nova Scotia board to enact real change for her colleagues. After years of waiting for operational software to find her, she built it herself and tested it with her existing brokerage to great success. Christy is a compassionate and decisive leader, referred to by industry friends and co-workers as an "Insurance Nerd". Her passion fuels her continued growth and commitment to the brokers' experience and insurance industry.
About Sandpiper Ventures
As one of the first all-women GP led funds in Canada, Sandpiper Ventures (www.sandpiper.vc) is a seed stage venture capital fund based on the east coast of Canada. Sandpiper invests exclusively in women-led Canadian tech companies, with at least one woman in a C-level position with meaningful ownership. With deep industry experience and expansive networks, Sandpiper's management team and advisors provide access to unique deal flow and an operator's lens to support portfolio companies to effectively scale. Sandpiper is co-founder of Canada51, a nationwide movement to radically increase women's participation in the innovation-driven economy. Sandpiper closed their inaugural Fund 1 at an oversubscribed $20M in August, 2022. To learn more, visit Sandpiper.vc and follow @Sandpiper_VC on Twitter and Instagram or on LinkedIn.
To request an interview or for more information:

Tara Wickwire, Sandpiper Ventures
Brand and Network Lead
902.403.6391
tara@sandpiper.vc
---
Back to all news