Sandpiper Ventures Announces Investment in Gotcare, Healthcare Software that Matches Homecare Workers with Patients
February 1, 2023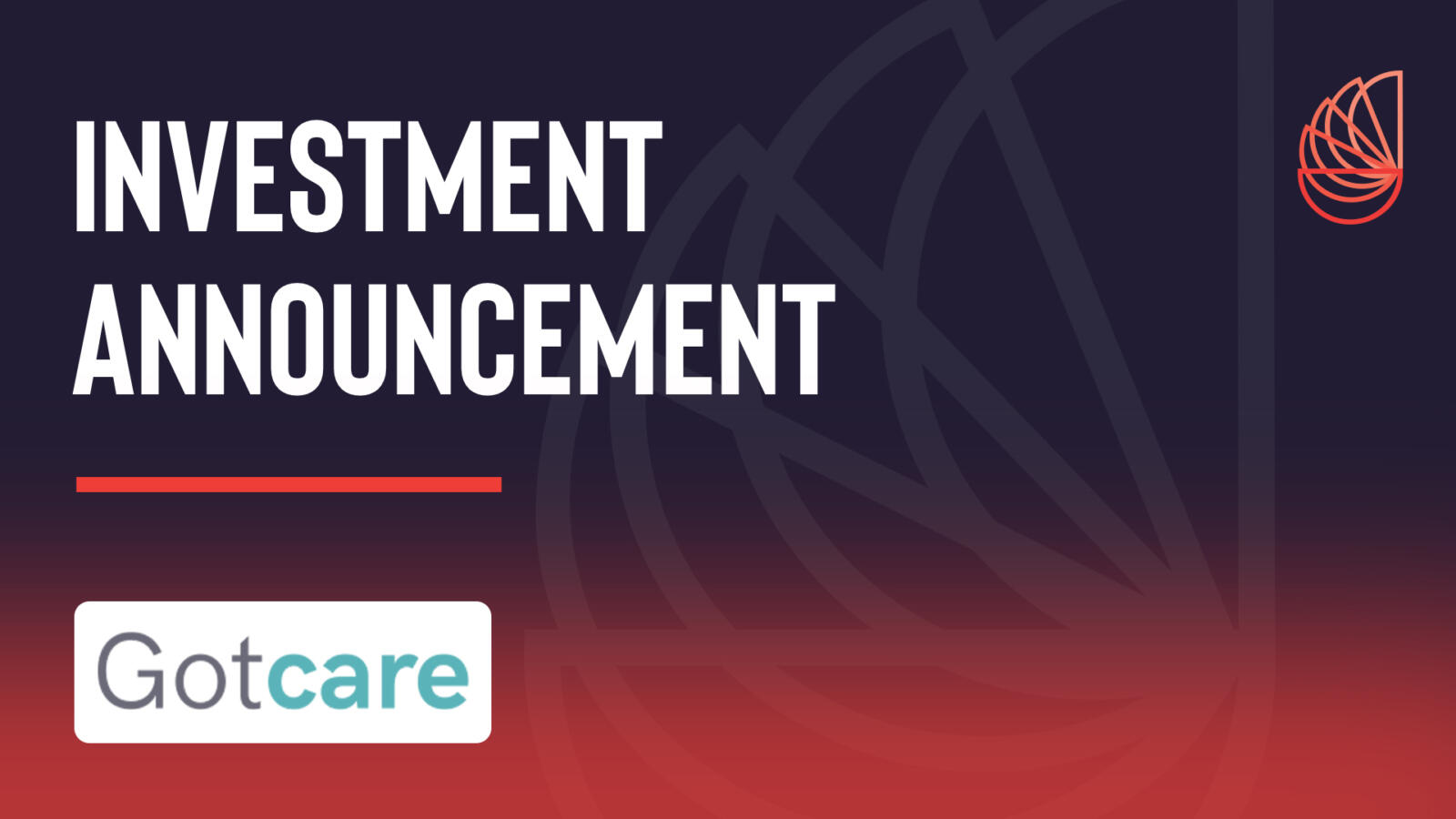 February 1, 2023 – Halifax, NS, Canada – Today, Sandpiper Ventures announced its investment in Gotcare, an early stage AI technology platform that matches clients with caregivers, including a focus on common language and cultural background, creating capacity for more community initiatives to relieve the overburdened healthcare system.
With its technology, Gotcare has partnered with insurance companies across Canada to assist them in addressing claims and better serving patients. To date, the company is transacting with over 70% of all insurance companies in Canada. Upon receiving patient referrals from insurance case managers, Gotcare uses its software and unique patient matching algorithms to locate an ideal care aide. Matching is based on proximity, specializations, language, and cultural understanding.​ Gotcare currently has over 30,000 healthcare practitioners on its platform that can easily be leveraged to offer recruitment as a service.
Gotcare addresses three key areas in today's Canadian healthcare landscape:
Demand Outstripping Supply
The country currently faces a long-term care crisis with demand outstripping supply. More people are opting for home care and away from institutionalized care. The COVID-19 pandemic added additional pressure to the healthcare industry. Most recently, emergency rooms across the country, specifically in rural areas have experienced closures due to nursing and doctor shortages.
Lack of Seniors' Access to Care
The growing senior population is also adding to the pressure faced in the industry. Publicly funded care is often insufficient, leaving many older adults unserved. The shortage of home care options is expected to intensify as the proportion of older adults in the country continues to rise.
High Workforce Turnover
Healthcare workers are experiencing burnout conditions leading to a high resignation rate. Job vacancies among healthcare practitioners increased by nearly 92% between the September to December 2021 period, compared to the same period pre-pandemic. The rapidly aging population continues to increase the demand for care, given that the highest healthcare costs are incurred in this age bracket.
The Gotcare platform is also training community care workers on virtual health services and on ways in which they can collaborate with doctors and nurses to manage their clients' files.
"Our operations team gets calls on the daily with families on the brink of tears because they don't know how to access care for their relatives," said Chenny Xia, co-founder and CEO of Gotcare. "We need to take the onus off overworked hospital workers, doctors and nurses. Community care workers can help–but we need to invest in them properly to relieve our healthcare workers."
"We are addressing a clear need here. Not only do we have a technology that creates a clear path to support that families need, it also will help recruitment efforts in the long-term health sector – building a network of resources that will be essential to overall well-being, particularly of our rural communities," comments Sarah Young, Co-founder and Managing Partner, Sandpiper Ventures.
Xia believes that the labour shortage will be Canadian healthcare's largest issue over the next decade. The funding is an important step in Gotcare doing its part in tackling this issue through initiatives such as continuing to pay above living wages and training modules, such as virtual care, for its community care workers.
The TELUS Pollinator Fund for Good also participated in this round.
"Gotcare's deep commitment to providing accessible and affordable homecare has provided Canadians with a unique way to access resources and services they need to support their loved ones and ensure quality care is provided where needed," said Blair Miller, Managing Partner, TELUS Pollinator Fund. "With one of the Pollinator Fund's guiding pillars focused on the future of health in Canada, leading Gotcare's financing round was a natural fit for us as we work together to support the ongoing growth and need Canadians have for reliable homecare services."
Canada home healthcare market size is estimated at $20B and is expected to grow at a CAGR of 8.89% between 2021 and 2031 to $48B. The market size has grown 6.3% per year on average between 2017 and 2022.
This marks Sandpiper's tenth investment, adding to their Healthtech portfolio, one of their primary areas of investment.
Sandpiper Ventures and Women in Venture Capital
Women-owned businesses received just 2.3% of venture capital (VC) funding available worldwide in 2020 (Pitchbook)
Women are also under-represented among equity investors, representing only 15.2% of VC partners and 16.7% of Canadian angel investors. (Highline Beta)
Women working in analyst, senior analyst, and associate roles make three to 13 percent less than their male counterparts in median salary. Bonus-wise, female analysts also make 43 to 46 percent less than men, while associates earn the same (Canadian Women in VC)
Female-founded teams experienced slightly higher growth, at 39.2%, compared with 33.3% for the broader VC population. (Pitchbook)
Female founders still managed to close more deal value three quarters into 2022 than in any year prior to the record highs set in 2021. (Pitchbook)
Only 2% of angel investors in Canada are female and female founders receive only 3% of VC dollars. Women of colour receive just 0.2% of funding, and there are no stats available for Indigenous women, LGBTQ women and/or women with disabilities, likely because the numbers are so small.
Female entrepreneurs receive $0.8M CAD while male counterparts receive $2.1M CAD.
About Gotcare
Gotcare is a healthcare provider transforming how health services is delivered in the home. Their patent-pending technology increases patient access to care and reduces the cost of care delivery. Gotcare employs the community care workers they work with and pays a living wage. Learn more or submit a care request: gotcare.ca.
About Chenny Xia, Founder and CEO
Chenny is a serial entrepreneur and advocate for women in technology and gender equity. As the CEO of Gotcare, transforming what it means to receive health services in the home, she has grown the business from $100K ARR to over $4M ARR in four years. She has been recognized for her leadership by organizations like SheEO (now Coralus) and was a member of Ontario's Task Force on Women and the Economy.
About the TELUS Pollinator Fund for Good
The $100 million TELUS Pollinator Fund for Good is one of the world's largest corporate social impact funds, and focuses its investments on for-profit companies and founders committed to driving social innovation. The TELUS Pollinator Fund is an extension of TELUS' long-standing commitment to leveraging the power of technology to drive positive social and environmental outcomes for all Canadians by funding the development of solutions for transforming healthcare, caring for our planet, supporting responsible agriculture and enabling inclusive communities. To learn more about the TELUS Pollinator Fund, please visit: telus.com/pollinatorfund.
About Sandpiper Ventures
As one of the first all-women GP led funds in Canada, Sandpiper Ventures (www.sandpiper.vc) is a seed stage venture capital fund based on the east coast of Canada. Sandpiper invests exclusively in women-led Canadian tech companies, with at least one woman in a C-level position with meaningful ownership. With deep industry experience and expansive networks, Sandpiper's management team and advisors provide access to unique deal flow and an operator's lens to support portfolio companies to effectively scale. Sandpiper is co-founder of Canada51, a nationwide movement to radically increase women's participation in the innovation-driven economy. Sandpiper closed their inaugural Fund 1 at an oversubscribed $20M in August, 2022. To learn more, visit Sandpiper.vc and follow @Sandpiper_VC on Twitter and Instagram or on LinkedIn.
To request an interview or for more information:

Tara Wickwire, Sandpiper Ventures
Brand and Network Lead
902.403.6391
---
Back to all news