Sandpiper Ventures Announces Investment in AI Healthtech Platform SiftMed
February 7, 2023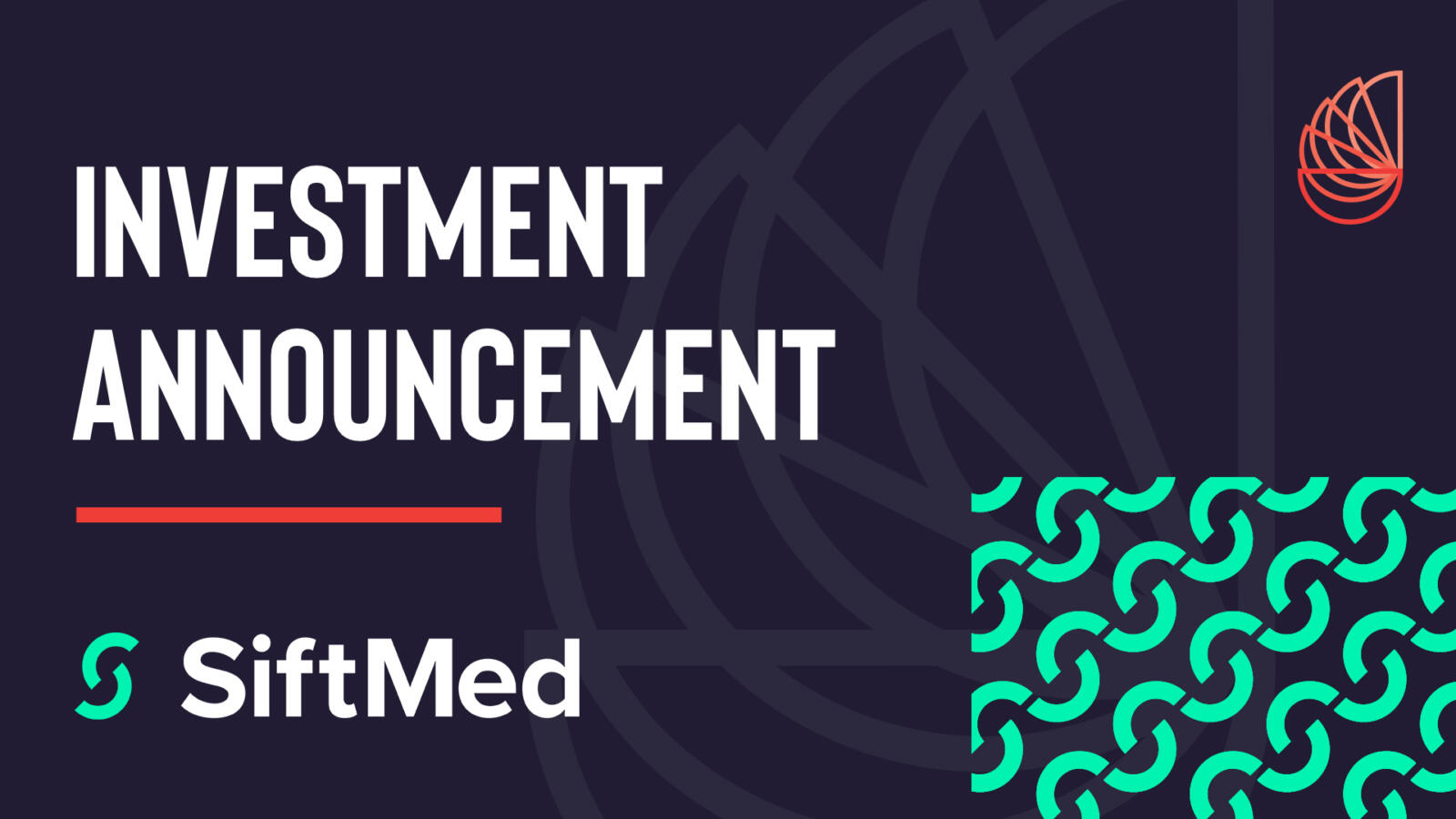 February 7, 2023 – Halifax, NS, Canada – Today, Sandpiper Ventures announced its lead investment in St. John's headquartered SiftMed (www.siftmed.ca) is an Intelligent Document Processing (IDP) platform that uses artificial intelligence to automate the organization of medical files by date and specific record type, reducing review time by 50%, leading to better patient outcomes, faster.
Using Natural Language Processing and Optical Character Recognition, SIftMed creates a timeline of medical files, categorizing them by type and makes them searchable and smart. The platform automatically sorts files, removes duplicates, and processes handwritten documents, making it easier for insurance, legal, and medical professionals to review files for relevant information. With SiftMed, insurance companies can work with a clean and organized claim. Users can tag, create notes and seamlessly generate a report. The platform is highly secure so medical documents can be transferred confidently, both internally and with external users.
The platform solves three key issues in medical file administration:
Slow review process.
Medical records are often delivered as unstructured, disorganized files. As a result, reviewers spend a huge amount of time compiling files page-by-page.
Missed details.
The size, volume, and complexity of medical files make it hard to find important facts that are sometimes hidden within unsearchable handwritten text.
Complexity in claims.
Pre-existing conditions can drastically change the scope of a claim, making it hard to identify the level of complexity and whether an expert is required to tackle it.
SiftMed reports that 1 in 5 medical insurance claims are processed incorrectly, resulting in slow, erroneous patient support. This amounts to $15 billion wasted annually by insurance companies attempting to manually organize medical files.
Other key points of interest:
Hub reports that the number of medical malpractice claims in excess of $10 million is rising every year. Since 2015, the number of claims filed in the US has risen more than 125%
Transparency Market Research reports that the global electronic health records market was valued at $26.1 billion in 2018 and is estimated to be valued at $42.3 billion by 2030. This represents a CAGR of 4.8% during the period
Innovation in the market will likely involve the integration of natural language processing to allow users to engage more effectively with electronic medical data
The North American market for electronic health records is currently the largest, but the Asia Pacific region is expected to experience the most rapid growth over the next 10 years ▪ Women-owned businesses received just 1.9% of venture capital (VC) funding available worldwide in 2022 (Crunchbase)
Women are also under-represented among equity investors, representing only 15.2% of VC partners and 16.7% of Canadian angel investors. (Highline Beta)
SiftMed's customer base includes medical professionals, lawyers, and insurance companies.
Holly Hill, President & CEO and Co-founder of SiftMed, comments, "There's a significant opportunity for our solution in the healthcare and insurance industries. Scaling and growth can only happen with capital and the right resources in place. We are so pleased to have the support of Sandpiper Ventures – who share our vision for the company and recognize the huge impact this will mean for capturing, sharing and storing medical data."
Rhiannon Davies, Co-founder and Managing Partner of Sandpiper Ventures adds, "Holly and her team have developed a compelling digital health solution. Electronic health record technology will improve patient care by minimizing medical errors by enhancing the quality and transparency of medical records, eliminating duplication of testing, and shortening delays of treatment. This is an important problem that needs solving in our world – efficiency and accuracy in medical document reporting - and we are looking forward to seeing SiftMed's impact."
Pelorus Venture Capital will also invest in this round. This marks Sandpiper's eleventh investment, adding to their Healthtech portfolio, one of their primary areas of investment.
Sandpiper Ventures and Women in Venture Capital
Women working in analyst, senior analyst, and associate roles make three to 13 percent less than their male counterparts in median salary. Bonus-wise, female analysts also make 43 to 46 percent less than men, while associates earn the same (Canadian Women in VC)
Female-founded teams experienced slightly higher growth, at 39.2%, compared with 33.3% for the broader VC population. (Pitchbook)
Female founders still managed to close more deal value three quarters into 2022 than in any year prior to the record highs set in 2021. (Pitchbook)
Only 2% of angel investors in Canada are female and female founders receive only 3% of VC dollars. Women of colour receive just 0.2% of funding, and there are no stats available for Indigenous women, LGBTQ women and/or women with disabilities, likely because the numbers are so small
Female entrepreneurs receive $0.8M CAD while male counterparts receive $2.1M CAD.
Holly Hill, President & CEO and Co-founder, SiftMed
Holly Hill is a results-oriented, energizing and inspiring leader who has been professionally involved in Sales and Organizational leadership and development for the past decade. Passionate about developing new businesses, Holly has dedicated her career to helping companies bring new and novel products to market. Within her career Holly's work has contributed to helping companies with successful equity raises, growing and developing scalable business models, and gaining corporate acquisitions. With a mandate for pushing Newfoundland and Labrador's thriving technology sector forward, Holly has been involved in sectors such as FinTech, Wireless power, Automation and most recently, Education.
Holly holds an MBA and a Bachelor of Commerce Degree with a primary focus in Marketing from Memorial University of Newfoundland. She has also completed Miller Heiman Strategic sales training to bolster her diverse sales background. Holly has hollowed out a unique career path that applies her Sales and Marketing acumen to growing technologies within niche markets. An avid volunteer, Holly currently serves as an Advisory board member for Memorial's Centre for Entrepreneurship and previously served as an Executive Secretary of the board of directors for the Alzheimer Society of Newfoundland and Labrador.
Holly Hill, President & CEO and Co-founder, SiftMed
About Sandpiper Ventures
As one of the first all-women GP led funds in Canada, Sandpiper Ventures (www.sandpiper.vc) is a seed stage venture capital fund based on the east coast of Canada. Sandpiper invests exclusively in women-led Canadian tech companies, with at least one woman in a C-level position with meaningful ownership. With deep industry experience and expansive networks, Sandpiper's management team and advisors provide access to unique deal flow and an operator's lens to support portfolio companies to effectively scale. Sandpiper is co-founder of Canada51, a nationwide movement to radically increase women's participation in the innovation-driven economy. Sandpiper closed their inaugural Fund 1 at an oversubscribed $20M in August, 2022. To learn more, visit Sandpiper.vc and follow @Sandpiper_VC on Twitter and Instagram or on LinkedIn.

To request an interview or for more information:
Tara Wickwire, Sandpiper Ventures
Brand and Network Lead
902.403.6391
tara@sandpiper.vc
---
Back to all news